Dental Hygienists and Carpal Tunnel Syndrome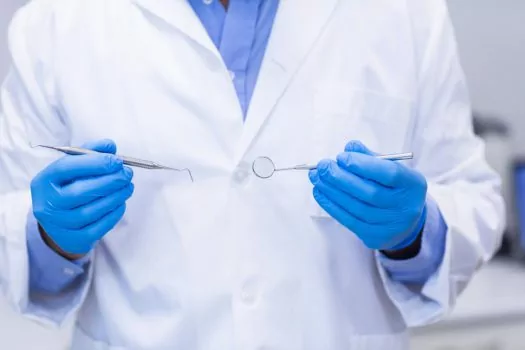 If you have to remove heavy calculus and extensive tartar build-up from your patients' teeth, your hands may be paying the price.
According to a study published in the Journal of Dental Hygiene, hygienists who had a majority of patients requiring heavy cleaning were 2.3 times more likely to develop hand problems than those who had fewer patients with extensive calculus.
Being an excellent hygienist means not only taking great care of your patients, but taking good care of your hands. This issue is important to all dental professionals, so we've compiled some information on this occupational hazard and why ergonomic prophy pieces are key to avoiding problems like carpal tunnel syndrome.
What is carpal tunnel syndrome?
The carpal tunnel is a "passageway" in the wrist through which nerves pass. When this tunnel narrows, it increases pressure on the median nerve—one of the main nerves in the hand. The result is numbness, tingling and pain in your hand and arm. Carpal tunnel syndrome (CTS) affects millions of Americans each year.
The condition can be even more devastating for those whose careers require delicate, repetitive tasks, such as assembly line work, manufacturing and computer work. Dental hygienists are at a particularly high risk of developing CTS.
What are the symptoms of CTS?
Symptoms of carpal tunnel syndrome include:
• Numbness
• Tingling
• Burning
• Pain
• Shock-like sensations
• Tingling that travels to the shoulder from the forearm
• Weakness
• Difficulty performing tasks like buttoning your clothes or using dental instruments
According to the American Academy of Orthopedic Surgery, CTS generally gets worse over time. Failure to get timely treatment can lead to permanent nerve damage. CTS can be treated by splinting, surgery, and steroid injections.
Dental hygienists frequently experience hand problems
A study in the Journal of Dental Hygiene examined hand problems among more than 5,000 army dental personnel, paying particular attention to the hygienists. The results may surprise you:
• 75 percent of dental hygienists reported some type of hand problems
• More than half exhibited classic signs of CTS
• Those who practiced more than 10 years were almost twice as likely to have CTS symptoms as those with fewer years' experience
According to Dimensions of Dental Hygiene, a professional industry magazine, these guidelines can help you avoid CTS and other similar disorders:
• Understand the basics of ergonomics and how they affect your work area
• Be sure you are raising and lowering the patient chair in the correct manner
• Learn about the latest equipment and techniques available
• Take short breaks throughout the day when possible
• Use instruments with thicker handles because they are better for your hand health
• Be sure your instruments are sharp
• Teach yourself to use a neutral wrist position
• Make sure you have good lighting—poor lighting may cause you to strain or turn at awkward angles
Diatech leads the way in detailed design
Your tools are an essential part of your profession, but even the most valuable tool will be useless if you have lost your range of motion due to a hand injury such as carpal tunnel syndrome. If the handle on a dental instrument is too thin, more force is needed to roll and control the instrument. The larger the handle, the less force is needed, and as a result, less strain on your wrist. Our bur sets, bits and gold diamond dental burs remain sharper longer. Sharper burs require less pressure, which is easier on your hands.
With every product we make, we have the patient's best interest in mind. It's why merely acceptable quality isn't good enough for us. Your hands are your livelihood. Just as your patients shouldn't trust their teeth to just anyone, don't trust your hands to just any dental instrument.
At Diatech, we manufacture superior and innovative products for the dental industry… for the dentist, dental hygienist, dental assistant, orthodontist, endodontist and lab technician. We stand behind our promise of uncompromised quality and the best in competitive pricing.
Sources:
American Academy of Orthopedic Surgeons. "Carpal Tunnel Syndrome." Online.
https://orthoinfo.aaos.org/en/diseases–conditions/carpal-tunnel-syndrome/
Lalumandier JA1, McPhee SD. Prevalence and risk factors of hand problems and carpal tunnel syndrome among dental hygienists. Journal of Dental Hygiene. 2001 Spring;75(2):130-4. Online. National Institute of Health. https://www.ncbi.nlm.nih.gov/pubmed/11475758
Parker, M. Elaine, RDH, MS, PhD, "Preserve Your Arm and Hand Health." Dimensions of Dental Hygiene. Online:
http://www.dimensionsofdentalhygiene.com/ddhright.aspx?id=125