Moist Heat vs Dry Heat Sterilization: Which Is Better?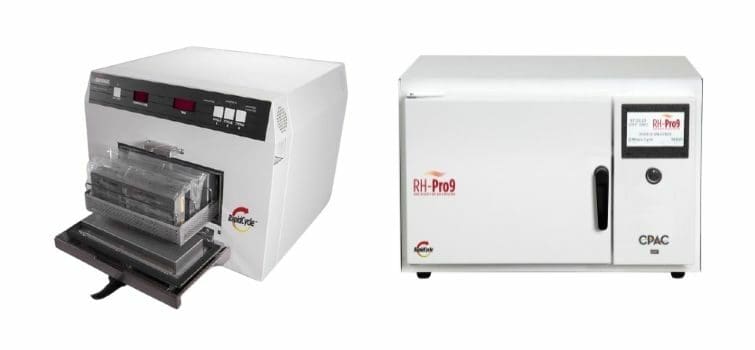 It's one of the biggest questions you'll face in your practice: Should you use moist heat vs. dry heat to sterilize your instruments? While both methods present some advantages, the best dry heat sterilizers offer one major difference—they do not damage even the most delicate dental instruments.
We'll examine some of the differences between moist heat and dry heat sterilizers and provide extensive resources for you to find the one that best suits your needs.
What Are the Advantages of Dry Heat Sterilization?
The main advantage of dry heat sterilization is that it will not corrode or dull instruments. It's also perfect for instruments that will be damaged by moist heat, such as powders, sharp instruments and even petroleum products.
However, you have to be sure that the instruments are completely dry before they are placed in the sterilizer.
Dry heat is also more environmentally friendly than moist heat, and it is a particularly economical choice for dental practices. Other advantages of dry heat sterilizers are:
It's nontoxic
It has low operating costs
It easily penetrates materials
It's noncorrosive
It doesn't harm the environment
It's easy to install
If you're looking for a method of sterilization that is easy, effective, and won't damage your delicate instruments then dry heat sterilization may be a good choice for you.
How Does Dry Heat Sterilization Work?
This method of sterilization raises the temperature to 375 degrees Fahrenheit (or 191 degrees Celsius). The typical cycle takes under 40 minutes, though there are several different rapid dry heat sterilizers on the market that are FDA-cleared and take less time.
How Do Moist Heat Sterilizers Work?
Moist heat sterilizers are heated to create a saturated steam that destroys microorganisms. You should follow your manufacturer's instructions diligently, but in general, how long and how hot the temperature should be depends upon the BAR pressure.
But it's important to realize that moist heat (steam) sterilization can cause corrosion on orthodontic and dental handpieces.
There are also several disadvantages to moist heat sterilization:
After the item is sterilized, it remains wet. This can cause rust to accumulate.
Repeated exposure can damage some delicate instruments.
May be more harmful to the environment.
What Are the Best Dry Heat Sterilizers?
The RapidPro line of dental sterilizers offers the unique combination of complete sterilization with cycles varying from six minutes to 12 minutes depending upon whether or not the instruments are wrapped. This represents the fastest FDA-cleared sterilization technology.
The RH-Pro9 uses 85 percent less energy than steam, and it's compact size means you can easily find room for it on counters or cabinets.
We also offer the rapid heat RH-Pro 11 that offers the same fast sterilization technology that is also FDA-cleared.
As a leading supplier, we are proud to offer these best dry heat sterilizers for your dental or orthodontic practice.
Diligently Monitor Your Sterilization Equipment
Of course, having excellent sterilization equipment is only part of the equation. All sterilization equipment must be monitored by biological monitoring. For dry heat sterilization, this means making sure that the instrument reaches the required internal temperature — not the temperature of the air surrounding it.
You can learn more about monitoring your sterilization equipment in our earlier post.
Diatech Offers the Best in Dry Heat Sterilizers
For decades, we've provided the finest, durable dental and orthodontic instruments along with leading brands such as KENDA, Certol and ProDent. We value quality, and that's why you'll find we're dedicated to the highest level of customer service.
As a women-run business, we invite you to see the Diatech difference for yourself. Order directly from Diatech and check out our latest specials.