Dental Polishers: All You Need to Know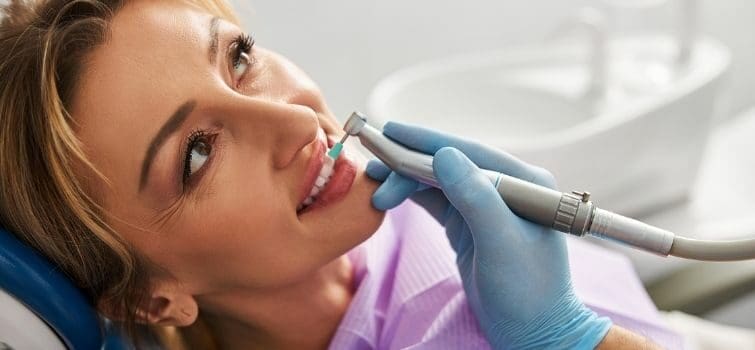 Your work is only as good as your tools. Polishing and cleaning are the most common duties of dental hygienists, and selecting the right dental polishers can maximize efficiency and contribute to a positive patient experience.
We'll take a look at dental polishers, how mechanical polishing compares to air polishing, and what to look for when selecting a polisher or ceramic polishing burs.
Which is better, air polishing or mechanical polishing?
Each method has some distinct advantages, however, there are some contraindicators you should be aware of if you opt for air polishing.
As opposed to mechanical polishing, air polishing uses a lighter handpiece and ultrasonic scaler. It generates pressured air, abrasive powder and saltwater to remove plaque. It has been in use in dentistry since the late 1970s, according to information from the Journal of Dental Hygiene.
Advantages of air polishing include:
Reduced time
Less fatigue
Efficient stain removal
However, there are some distinct negative components associated with air polishing that must be taken into consideration.
Don't use on patients with these contraindicators:
A sodium-restricted diet
Hypertension
Respiratory illnesses
Infectious diseases
Addison's or Cushing's diseases
Another disadvantage of air polishing is that some clinicians believe that air polishing can be too abrasive on the gingival tissues.
According to research from the Indian Journal of Periodontology:
Polishing with bristle brush demonstrated less surface roughness and debris when compared to air polisher at P = 0.58, P = 0.03 for enamel surface and P = 0.003, P = 0.21 for cementum, respectively. The surface roughness was reduced considerably by rubber cup at P = 0.03 for enamel and P = 0.003 for cementum, compared to air polisher at P = 0.99 and P = 0.21 for enamel and cementum, respectively."
One distinct advantage of mechanical polishing is that it can be easier on gingival issues without worrying about contraindications.
What to Look for in Dental Polishers
Disposable dental polishers are typically more efficient, although there are several elements to consider when working with them.
Pay careful attention to the shank
If you are using a disposable plastic shank, you should make sure it does not bend.
If you are not using a disposable plastic shank, you should remember to include time to mount it in your preparation time. Pay close attention to the feel of the instrument. If they are connected improperly, there will be a wobbly sensation. As a result, the bonding of the tip to the shank is not stable.
Consider getting one that comes pre-mounted with no need for cleaning or reprocessing work.
Realize the Advantages of Simplicity
Be aware of how many steps your polishing process involves. In many cases, disposable polishing systems have several steps involved and it may not be clear when each one is appropriate. That's one reason KENDA Polishette® has created an easy-to-follow three-step dental polishing system.
Examine the Neck of Your Dental Polishers
If the neck is tapered, it can not only provide a finer appearance but better visibility as well. It may be necessary to try samples of a product to experience the difference.
Using an oversized neck can hinder your visibility. Straight necks sometimes present the same problems.
Take Advantage of Single-Use Systems
There are some clear disadvantages to multiple use systems. They require a lot of time to ensure they are adequately cleaned because debris often will gather inside the lumens. Not only is it inconvenient to clean this area, but it's hard to reach.
While some single-use systems can be cost-prohibitive, others, such as the KENDA Polishette® are surprisingly economical. There's no need for the expensive complements like polishing paste. By coming pre-mounted, they also save time and hassle.
KENDA Polishette® Dental Polishers Answer Everything on Your Dental Polishers Wish List
The KENDA Polishette® was conceived by examining the "wish list" of dentists, creating a product that checked all the boxes.
Convenient? Definitely.
Cost-effective? Absolutely.
The Polishette® system is unique in that it is a disposable system that is both economical and convenient. It also makes it easy to find the right tool for the right job.
Advantages of the KENDA Polishette® include:
Better agility, meaning superior access to fissures
A tapered neck to increase visibility
A medical plastic shank that won't bend
A simple, easy-to-use system that makes it easier to select the right tool for the job
No blunt points
Diatech is Proud to Offer KENDA Polishette® Dental Polishers
Why should you order your set of KENDA Polishette® polishers from Diatech? What sets us apart from our competitors?
Value. Dedication. Efficiency.
Our process eliminates the need for a middleman, so we can pass savings on to you. Since 1984, we have offered the quality products our customers have come to expect. In addition, you can take advantage of same-day shipping. It's time to order direct from Diatech.
Order the KENDA Polishette® today.
---
At Diatech, we manufacture superior and innovative products for the dental industry… for the dentist, dental hygienist, dental assistant, orthodontist, endodontist and lab technician. We stand behind our promise of uncompromised quality and the best in competitive pricing.