KENDA® Polishette® Dental Polishers Available for First Time in U.S.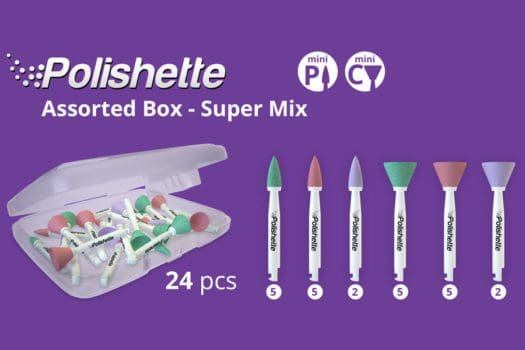 KENDA® Polishette® dental polishers are available for the first time in the United States, and you can now take advantage of their exceptional accuracy, unequalled precision and excellent visibility to help streamline the finishing process in restorative dentistry. 
KENDA has taken all the items from dentists' "wish lists" and used them to create a powerful polishing tool coupled with an easy-to-use system for working with hybrid ceramics and all composite materials. Another distinct advantage of these mini shaped dental polishers is that they are half the cost of many similar systems currently on the market. 
The product has earned several accolades; they earned recognition in THE DENTAL ADVISOR's April 2016 issue for achieving the highest gloss value of all measured composite polishing systems. 
At Diatech, we pride ourselves in only offering the highest quality tools for your practice, and that is why we're pleased to offer KENDA's Polishette. Don't fall for imposter products—not only will they fail to match superior craftsmanship, but when they cause problems, they could open your practice to liability.
There are simply no substitutes for Diatech and KENDA quality.
What Makes the KENDA Polishette Different?
When dentists were frustrated by other polishing systems on the market, KENDA listened and created the Polishette to provide a powerful, high-quality yet economic solution to these problems. No one else can match KENDA's precision coupled with an easy-to-use, streamlined system.
The KENDA Polishette features:
Mini shapes for precise placement

Tapered shanks for excellent visibility
MiniCups and MiniPoints for added precision
Powerful coarse-gritted polishers
Excellent abrasive performance
An easy-to-use system for quickly picking the right tool for the right job
Incredible agility
Superior access to fissures
A solid, medical plastic shank
Single-use to eliminate cross-contamination
Accurate shapes with no blunt points
Optimized silicone to withstand friction
Medical plastic shanks that don't leave black marks on the tooth
In addition, these disposable dental polishers don't require other complementary components like polishing paste. They also eliminate inconvenience by coming pre-mounted. Their single-use means no reprocessing work is necessary.

Polishette Saves Storage Space
KENDA also understands that when running a busy dental office, storage space is precious real estate. That's why they have eliminated bulky packaging that does nothing but waste resources. Up to 30 Polishettes are packaged in a small plastic box designed to easily fit in most drawers. After you've used your Polishette polishers, the container can be easily repurposed.
Streamlining the Process—a Key to KENDA Success
One of the main advantages of the Polishettes is found in their streamlined simplicity. There are three colors—green, red and violet—with two shapes of each one. 
This means you spend less time picking the right tool for the job. In a busy dental practice, these precious minutes can add up to measurable efficiency—and cost-savings – at the end of the day.  When you consider that the KENDA Polishettes are significantly less expensive than similar products on the market, you can easily see how the use of Polishettes provides a financial benefit for your practice.
A Quick Guide to Polishette Shapes and Colors
These agile mini shapes are smaller than conventional polishers, which creates better access and superior precision. They make polishing an easier, more pleasant experience for both you and your patients. There are two shapes: the MiniPoint and the MiniCup. The MiniPoint is perfect for any close work near the gingiva and provides optimal access for occlusal fissures. The MiniCup is great for providing silky shines on approximal surfaces, occlusal cusp surfaces and even larger tooth surfaces.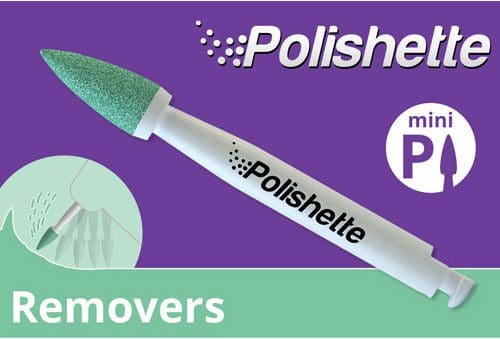 The KENDA Polishette removers are green are a great choice for forming the final shape of the tooth during a restoration process. They allow you to easily blend any abrupt irregularities that occur on the surface of the restoration. 
Versatile red smoothers create a great shine on the surface and easily enables you to remove any scratches or defects that were caused by finishing instruments. Removes intrinsic stains.
Purple Polishettes are diamond-filled shiners that provide a high gloss in a matter of seconds.
Order Direct From Diatech
Why should you order dental polishing tools from Diatech? Because we eliminate the middleman and provide the best value for your dollar. We also offer same-day shipping and provide customer service where you will be connected with an actual person—not a computerized phone tree. Since 1984, our customers have experienced the Diatech dedication to quality assurance, and we consider their faith in us to be a testimony to all that we do. 
You can have access to more discount codes and special offers by subscribing to our newsletter or visiting our Facebook page.
At Diatech, we manufacture superior and innovative products for the dental industry… for the dentist, dental hygienist, dental assistant, orthodontist, endodontist and lab technician. We stand behind our promise of uncompromised quality and the best in competitive pricing.