Three Important Keys to Dental Handpiece Maintenance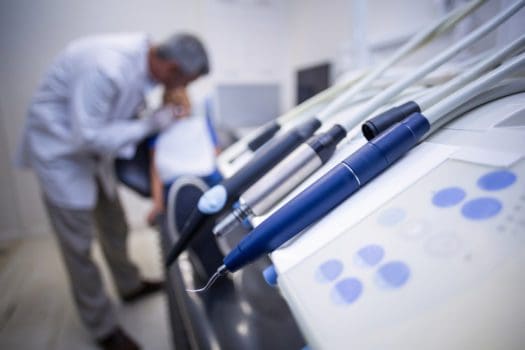 You would never drive your car for 100,000 miles without changing the oil, would you? Likewise, you should never take shortcuts when it comes to maintaining, repairing or replacing your handpieces. A handpiece that isn't working at optimum efficiency causes delays, impacting your practice's efficiency. High-speed handpieces are at the heart of every dental procedure, and the success of your practice depends upon using a quality handpiece in combination with a reliable diamond bur or carbide that will cut properly.
We've taken the elements of handpiece maintenance and outlined three important keys to proper handpiece maintenance.
Do not take shortcuts when sterilizing and cleaning.
We're sure you're familiar with the extensive regulations and guidelines regarding instrument sterilization, but there are some additional factors to consider:
Clean your handpiece thoroughly before putting it in the autoclave
Make sure the autoclave process is complete before removing your tool
Don't cool your tool using water; this can damage it
In addition, don't forget to clean:
The fiber-optic glass
The inside of the handpiece head
The turbine chuck
Be sure to follow maintenance recommendations.
Follow the manufacturer's guidelines for maintenance and repairs. In addition, make sure any repairs are completed using replacement parts and tools from the same manufacturer. It may be more expensive to order these parts through the manufacturer, but using a different brand could damage your handpiece, causing more problems in the long run.
Keep a maintenance record.
You don't know what you don't know—it's impossible to maintain your handpieces if you have no idea when you last lubricated the turbine or replaced a certain part. Keeping a maintenance log also helps you save money. For example, changing a turbine when it starts to lose power can save hundreds of dollars in labor costs.
In addition, these records also help you stick to a regular maintenance schedule. Remember, if you're taking shortcuts with your handpiece maintenance, you're hurting your practice in the long run.
Diatech quality ensures long-lasting dental burs and handpieces
The primary step in handpiece maintenance is purchasing a reliable product and long-lasting, quality burs to help you complete procedures efficiently and without interruption. Our proprietary diamond application results in uniform coverage that creates burs that are able to cut faster, smoother and more comfortably. We take no shortcuts when it comes to quality—we only use natural diamonds.
Are you looking for a quality bur to go with your well-maintained handpiece? Contact us for more information.
---
At Diatech, we manufacture superior and innovative products for the dental industry… for the dentist, dental hygienist, dental assistant, orthodontist, endodontist and lab technician. We stand behind our promise of uncompromised quality and the best in competitive pricing.
---