The 5 Best Tools for Windshield Repair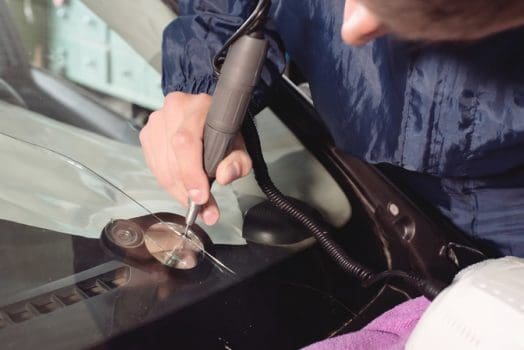 Imagine the frustration of your customers when they realize that the small chip they got in their windshield has grown into a larger crack. They call you to help them before the chip transforms into a bigger problem that would prompt a windshield replacement. Your clients expect you to provide a high-quality, efficient windshield repair service, and the right tools can make all the difference and positively impact your profit margin and labor costs.
We've outlined some of the most important items you should have in your toolkit, from carbide burs to cleaning equipment. Don't start a job without these vital tools of the trade.
The 5 Best Tools for Windshield Repair
It's important to have a tool that won't awkwardly travel across the glass, skip, and make your repairs more complicated. Therefore, we suggest carbide tools with a rounded end.  Their retention grooves enable you to create an original depth mark, and they're able to smoothly move across the glass.
2. Pear end carbide tools
Pear end carbide tools are perfect for shaping, contouring and preparing the glass. At Diatech, part of our proprietary technology is that we create all of our burs from single pieces of carbide instead of fusing together multiple materials. This precision concentricity provides less chatter and the tool is less likely to rust.
In addition to our traditional carbides, we also offer Golden Sharpie carbides that can be another powerful tool in your kit. Not only do these allow you to cut more freely and aggressively, but they also:
Will not stall or clog when cutting metal
Handle better because we create the carbide from a single piece
Save time due to less vibration and chatter
Offer the highest concentric precision
Have the longest cutting life
Will not rust between shank and bur head
These help you easily remove and install O-rings. Our model is made of hardened and tapered chrome with both a small angle hook and a full hook for hard-to-reach rings. Sharp, long-lasting hardened tips ensure durable use. A knurled handle provides a sure grip.
5. Tool cleaning equipment
While it may not be classified as a tool, cleaning equipment is important to ensure everything continues to operate at maximum efficiency.  Our kits feature new, stiffer bristle brushes that are more efficient for cleaning all types of windshield repair equipment.
In addition to our 13-piece cleaning kit, we also offer a 20-piece kit with a case.
The 20-piece kit includes:
1-Piece brush each in stainless steel, brass, and nylon in the following sizes:
1/4 inch
3/8 inch
1/2 inch
5/8 inch
3/4 inch
1 inch
All brushes have a 1/4 in. hex-shaped, quickly disconnect shank. No tools are needed to switch the brushes. A choice of stainless steel, brass and nylon brushes makes this kit ideal for cleaning your windshield repair equipment.
What is the Diatech difference?
We are dedicated to our customers, offering personalized service and timely answers to their questions. For information, you can always call our customer service number at 1-800-222-1851, where you will be greeted by an actual person, not a phone tree.
---
For decades, Diatech has made a commitment to its customers to provide the best tools for an economical price with unparalleled customer service. Our quality carbides have made us the leader in supplying superior tools for the windshield repair and dental industries. We're proud to offer same-day shipping on your order when it is placed by 2 p.m.
---