5 Tools Every Dental Student Should Have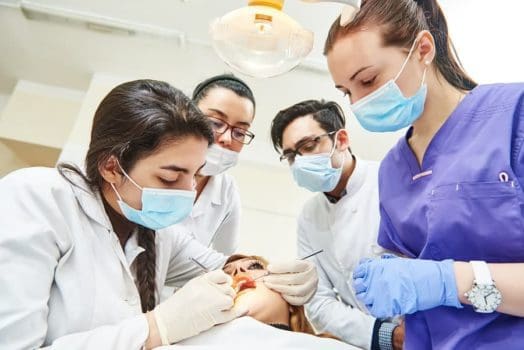 Dental school enrollment has reached its highest level since the 1980s. In the 2017-2018 academic year, an estimated 25,000 students were enrolled in dental education programs, an increase from 24,677 the previous year, according to information from the American Dental Association.
Today's dental student is able to study and incorporate some of the most advanced techniques in dental history. Your dental school will likely provide an extensive list of the specific tools you need, but here are five dental tools for students that we consider absolutely essential for learning both the science and art of dentistry.
1. High-quality mirrors
The importance of this tool is obvious—it's crucial in the learning process and is vital in making a correct diagnosis. Because of its importance, you need mirrors with various levels of magnification and ones that are sturdy enough to serve you throughout your entire education.
At Diatech, we specialize in creating superior quality tools that are among the most durable and effective on the market.
We suggest:
The double sided mirror with handle and the rhodium single-sided mirror (#5).
2. Hemostats
Hemostats are an important part of any type of dental or orthodontic surgery. It's important for students to learn which type of hemostat is best to use for each kind of procedure, so we recommend having a variety available.
We suggest instruments from our extensive list of hemostats such as this curved tip hemostat or this Mathieu style one with an extra tapered tip. Other varieties also include the straight, hole-in-tip mosquito hemostat.
3. Explorers, scalers and probes
These are some of the most commonly used instruments in your dental toolkit. When using these hand tools, it's important to take into account factors such as how it feels in your hand, its weight and its ergonomic design.
We have several varieties in our website catalog.
4. Basic orthodontic tools
After dental school, you may opt to specialize in orthodontics, which requires additional years of training. Therefore, we believe that it's important for you to have a good grasp and understanding of how orthodontic cutters, wire-benders and bracket removal tools work. Like hemostats, certain cutters or benders are better for specific conditions.
For an example of the extensive variety of orthodontic tools we have available, you should consider our distal end cutters. In fact, we invented and patented the safe hold distal end cutter in 1971.
All of our pliers are made in the USA with American raw materials and are custom-crafted to provide control and precision in bending orthodontic wires. We also offer precision debanding pliers.
5. A superior-quality solid drill bur set
You'll eventually need to invest in your own dental bur set, so dental school is a good time to try many varieties that are available, and we believe you'll come to the conclusion that so many dental professionals have: Diatech quality and customer service rise above the competition.
Why is a quality bur set important? Because it has a "domino effect" that touches every facet of a dentist's practice. Poor quality burs mean you have to use more force and take more time. This can easily push back your daily schedule and limit the number of daily procedures you can complete in a timely manner. An efficient set also minimizes the trauma on the tooth and the discomfort of the patient.
Each bur head is specifically designed for a purpose, whether smoothing edges, removing decay or cutting the tooth in preparation for a crown or root canal. Our gold diamond dental burs are some of our most popular products because:
We use only Swiss-engineered gold diamonds that are able to produce the highest level of performance.
We use a proprietary application that provides uniform crystal coverage. This provides faster, more comfortable cutting.
We have an extensive array of shapes and grits, ranging from super coarse to ultra fine (10 microns).
Interested? Consider our popular Top 25 Diamond Kit.
The Diatech promise
We offer a wide variety of products, and we promise that every item leaving our facility has undergone the most extensive scrutiny and quality control in the industry. You can order easily through our online catalog or call our toll-free number at 1.800.222.1851 to speak directly with our knowledgeable customer service representatives.
Quality, value and service.  There's no substitute for ordering direct from Diatech.
---
At Diatech, we manufacture superior and innovative products for the dental industry… for the dentist, dental hygienist, dental assistant, orthodontist, endodontist and lab technician. We stand behind our promise of uncompromised quality and the best in competitive pricing.
---
Sources:
American Dental Association. "Dental Statistics." Online.
 https://www.ada.org/en/science-research/health-policy-institute/dental-statistics/education