Featured Product: Our Gold Diamond Dental Burs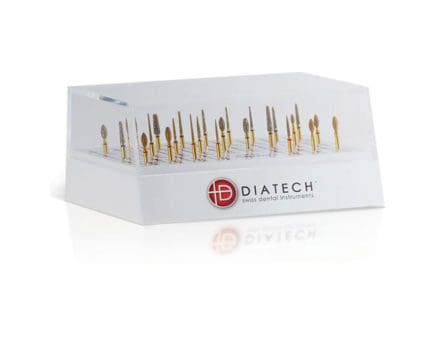 Gold diamond burs are an important part of any dentistry toolkit, and they're also some of our most popular products. We understand the importance of quality, long-lasting burs.
Poor quality tools often require more time for procedures. While this may not seem like a big issue at first glance, remember that it only takes a few of these cases to set back your entire schedule. This has a "domino effect" and can derail your office efficiency.
We've outlined a few facts you may not know about our gold diamond burs:
Four Interesting Facts About Our Gold Diamond Dental Burs
1. They are made from naturally occurring diamonds.
There's a big difference between naturally occurring diamonds and man-made ones. Natural diamonds last longer and provide smoother cutting with minimal vibrations. Man-made diamonds are often created in a lab and cannot provide the ease of use of most naturally occurring diamonds.
2. We have a proprietary multilevel application.
What does that mean? It means that our products have been game-changers in the industry for decades. One of these innovations is our multilevel application, which enables our diamonds to have more uniform crystal coverage. The bottom line? Accurate cutting that is faster and easier.
This also makes the instrument more comfortable to use, which can go a long way toward helping you avoid carpal tunnel syndrome, which is an occupational hazard for hygienists and other dental professionals.
3. They have a long instrument life.
Our featured gold diamond burs have an exceptionally long instrument life. How long? The answer depends upon a variety of factors. You should consider:
The conditions in which you're storing them

The hardness of the surfaces you work with most often

How often you use the bur

Whether or not you're following the manufacturer's recommendations for cleaning and sterilizing
For more information on how long a diamond bur should last, check out our previous blog article. 
4. You may know that they're Swiss-engineered…but do you know for how long?
You may already be aware of the advantages of our Swiss-engineered precision, but are you aware of how long we have dedicated ourselves to this philosophy? For more than 35 years we have implemented this uncompromising dedication to quality.
We stand behind our products. That's more than a catchphrase. It's a promise we make to all our clients.
We frequently run specials on our gold diamond burs. They are our most popular product and receive excellent reviews from our customers. If you're interested in trying out our product, we suggest our popular top 25 diamond kit. 
We regularly have special discounts on our products, providing a perfect combination of quality and value.  Online shopping is easy, and the discount is automatically applied in your cart.  Order now and avoid the extra cost and hassle of dealing with a middleman. Why would you when you can order direct from Diatech?
Interested in learning more? You'll find the following articles useful:
5 Ways to Streamline Ordering for Your Dental Practice
5 Tools Every Dental Student Should Have
Top 10 Signs of a Healthy Dental Practice 
---
At Diatech, we manufacture superior and innovative products for the dental industry… for the dentist, dental hygienist, dental assistant, orthodontist, endodontist and lab technician. We stand behind our promise of uncompromised quality and the best in competitive pricing.